3rd Batch starting From December 3, 2023 !

"If you do not know who you are then the stock market is an expensive place to find out"

-Adam Smith
These words, spoken in 1723 are a timely reminder that stock prices can fall much faster than they can rise, hence the role of temperament becomes much much important. And temperament cannot be taught , but it can be learnt.
It can be learnt by observation! Virendra Sehwag used to say he learnt most when he started opening up with Sachin Tendulkar ! He learnt by watching him bat from the other side of the pitch !
Welcome to Sadhan Mentorship Program, If you want to learn investing not by recorded videos but in a LIVE Action packed programme where you will have access to my decision making tools, access to my complete portfolio as well as can question my investment decisions so that you can also develop your own investment framework like I did. And all of this not just by watching from the fence but actually investing with me, interacting with me !
It is a WEEKEND ONLY LIVE Workshop based Program! You will get access to Recorded Lectures on a platform provided by us !
Under this mentorship program you will gain excess to :
1. Customised Excel Tool integrated with screener.in ( saves time)
2. 20+ hours of Foundation Video content to step up your investment journey step by step
Investors toolkit
Financial Statement Analysis
How to read Annual Report
Basics of stock market
3. 25 live Zoom classes (every fortnight) covering
How to generate stock ideas
How to develop second order thinking
How to identify sustainable moat
How to identify Red Flags
How to conduct scuttlebutt
Simplifying Macro Factors, Market Cycles
My research hacks
Investment Checklist
Mistakes to avoid while investing
How to conduct management quality check
Art of Valuing a stock
Margin of safety
How to build your portfolio
3 Investment classics( The Intelligent Investor, Common Stock & Uncommon Profit ) with case studies
How to monitor your investment
Behaviour finance, biases and how to avoid them
How to identify next multibagger
Art of Selling: When to Sell
4. 25 Classes on continuous weekend
5. 5 Sectoral webinars
6. Your Investment Framework
7. Access to My Portfolio
8. All Benefits under Complete Sadhan Membership (Including every fortnightly ask me anything session)
"Price is what you pay, value is what you get"

-Warren Buffett
You can derive an infinite value from the mentorship as it is totally up to you to learn and grow, because I believe in sharing whatever I can to all and the testimony of this is Sadhan and if you track us then you know that I have invested in 22 publicly disclosed Multibaggers (Apart from 15+ more undisclosed ones). Here are some of the portfolio stock we invested in past !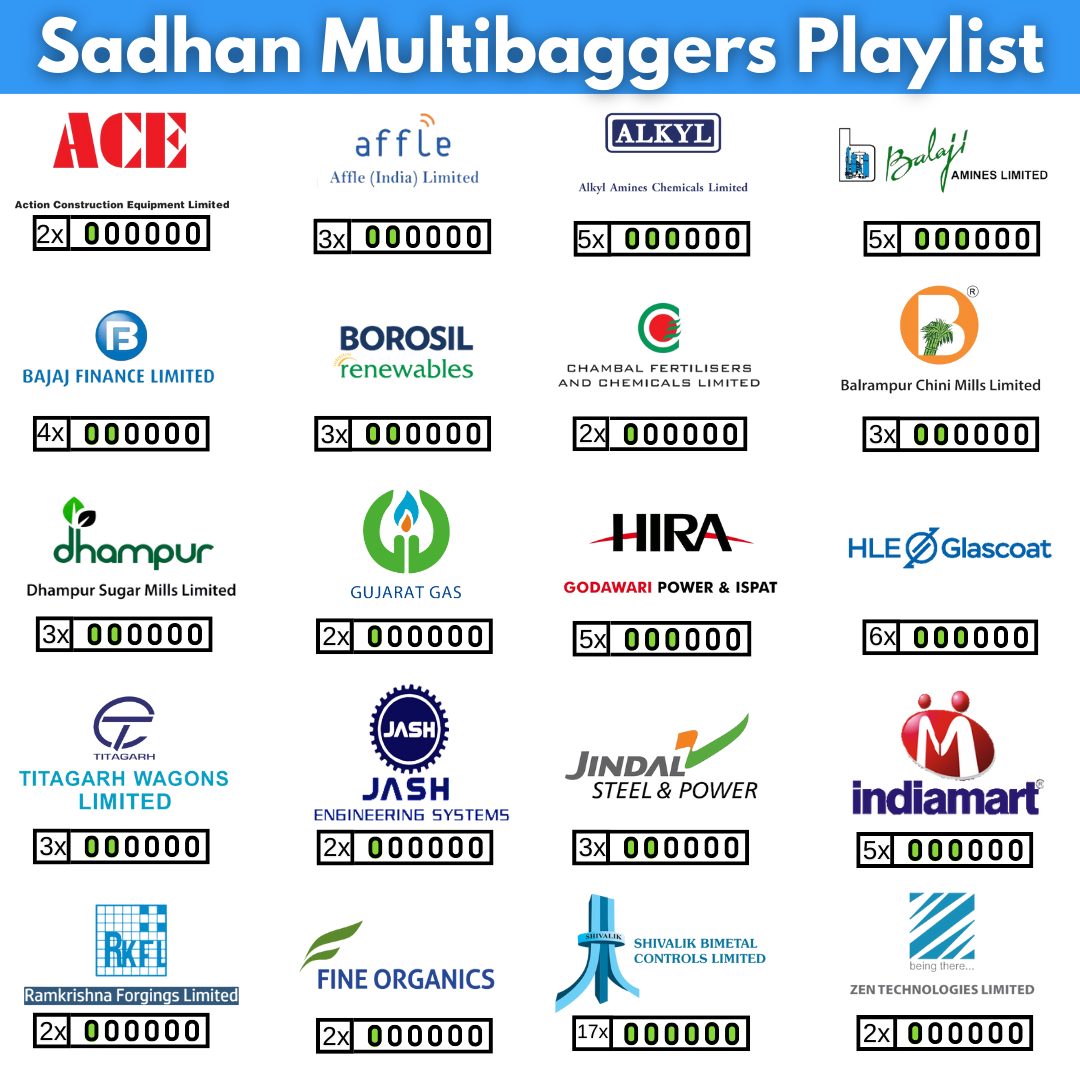 Course Fee
The fee of this one year program is Rs 39,999 only !
Payment methods
1. GooglePay
Gpay no:+918409133711
Ac holder name: Ramanand Singh
2. UPI
UPI ID: amitabhv@axisbank.com
3. Bank Transfer
Current Account details:
Ac Holder: Wealth Sutra
Ac no: 5113087504
Kotak Mahindra Bank
Branch: Vasant Vihar, New Delhi
IFSC Code: KKBK0004613
Please Share the receipt on email to amitabhhelios@gmail.com
You can get a glimpse of a day in the class here:
---